A beautiful flower garden is usually something we reserve for vacations, hill stations, and a large amount of land. Rarely do we imagine any visually pleasing combination of flowers in our own backyards. However, the Miyawaki method of afforestation defies these conventions, making flower gardens in a small area a real possibility.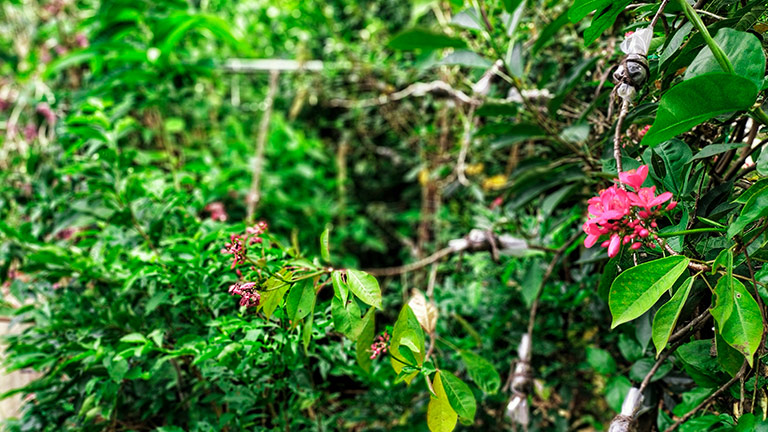 A flower forest was created at Puliyarakonam, Thiruvananthapuram in May 2019, following the Miyawaki method of afforestation. M.R. Hari has created this beautiful evergreen flower forest in front of his house. The process involved techniques like dense planting, mixed planting, preparation of the seedbed using the potting mixture, and mulching, all of which are recommended by Professor (Dr) Akira Miyawaki for afforestation.
This flower forest was created in a 600 sq. ft area. Four saplings were planted in each one sq. m. segment. Roughly 141 saplings belonging to 62 different species were planted. Indigenous varieties of flowering plants including trees, shrubs, and creepers were selected for the forest. Peacock Flower (Rajamalli), dwarf white bauhinia or white orchid-tree (Mandaaram), Cape jasmine (Gandharajan), Coral Jasmine (Pavizhamulla), Nerium or Oleander (Arali), Champak (Chempakam), Crateva magna (Neermathalam), Lantana (Kongini), Night-flowering jasmine (Paarijatham) and Ixora (Thetti) were the various saplings planted here.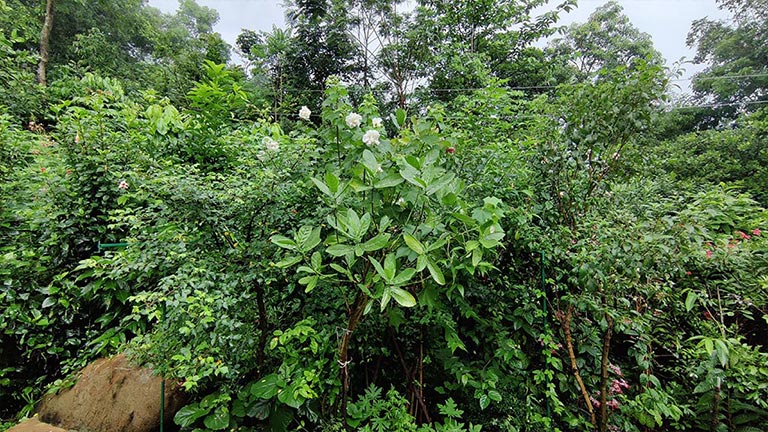 This kind of forest provides 30% more vegetation and is more financially viable. These Miyawaki model flower garden,at any time of the year, shall have at least 25 to 30 trees blossoming.
Maintenance of the forest, like regular irrigation and pruning, was done during the initial months. Later it was left to fend for itself. In a matter of one year, the forest became home to different species of butterflies and birds. Some birds even built nests, laid eggs and reared the hatchlings. Thus, a natural ecosystem has developed in a very short amount of time, solidifying the case on how organically pertinent these forests are. This small forest with its manifold flowers is an enchanting and heartwarming experience for all visitors.