A Miyawaki model forest was set up on 29 January 2020, in celebration of Prof. Miyawaki's 92nd birthday, in the backyard of the Chalai School in Thiruvananthapuram. The project was sponsored by Kerala Development Innovation and Strategy Council (K-DISC) and executed jointly by three institutions - Nature's Green Guardian Foundation, Invis Multimedia and Culture Shoppe.
Ten cents of land, that had been lying unused for a long time within the school premises, was earmarked as the site for a Miyawaki forest. As it was a patch of wilderness, considerable effort went into clearing the area, and preparing the seed bed. Finally, after 1,605 saplings belonging to more than 100 different species were planted, a short, surrounding parapet wall and a wire fence were put up, the forest was created. Today, it is a luxuriant bit of urban forest. In less than two years, its growth in height and thickness has been phenomenal.
The trees included neem, vegetable hummingbird, cluster fig, Malabar nut, Spanish cherry, Mahua, Indian rosewood, pongamia, burflower, golden shower, beechwood, Indian bael, champak, crownflower, cork-leaved bayur, ironwood, Indian leadwort, sandal, hibiscus, spider plant, flame-of-the-forest, jasmine, tamarind, jack, coral wood, mootapalam, mango, henna, three-leaf caper, Pala indigo, gooseberry, red sandal, wild cinnamon, strychnine and so on.
High-profile Visitors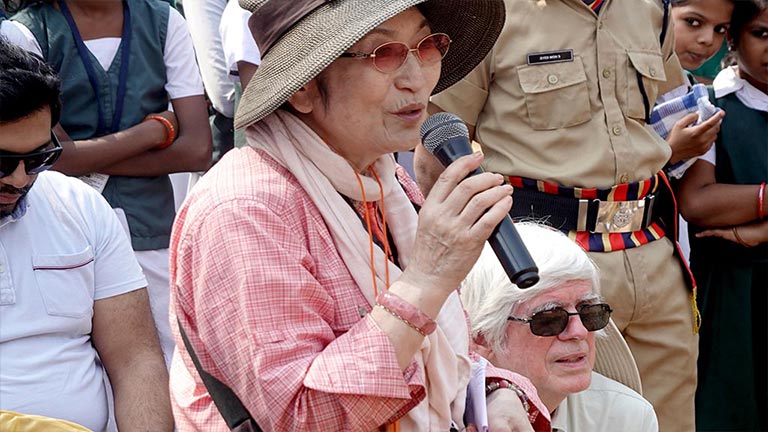 Two of Prof. Miyawaki's students and colleagues – Prof. Elgene Box and Prof. Kazue Fujiwara – were witness to the event. Dr Kazue Fujiwara, who is a senior Professor of Yokohama University, and Prof. Elgene Box, who works in the University of Georgia, have co-authored a book with Miyawaki. Prof. Miyawaki came online that day, and addressed the school students.
The instructions given by Professors Box and Fujiwara were invaluable for the Crowd Foresting team. They were of the opinion that plants belonging to only 30 species were required to make a forest. The emphasis was always on planting saplings that belonged to the indigenous species. On seeing the forests we had put up at various other places, they advised us against planting creepers and climbers until the forest became three years old. Creepers and climbers, in their opinion, are forest killers as they grow fast, suffocate the surrounding plants, and kill them.